We're excited to officially announce the 2016 Refined Impact Rebranding.
At Refined Impact, we realize that branding is essential.  Branding is valuable.  Branding is a key to the success of your business.  It's the first thing potential customers see when forming an initial opinion of your organization.   When we create brand images, we follow through with everything you'll need to use branding effectively.  From logo alternates to brand guides, and everything in between.  We cover it all, and give you the tools you need to create brand awareness for your organization, both online and offline.
We've been planning on refreshing our own look for a while.  We were so busy, we put our own branding on the back burner.  Recently, we set aside the time to re-brand, and create the logo(s) that are in use today.  We already implemented these new logos, and they are currently being used across all digital and physical media.  Here is our new logo, alternates, as well as our "RIcon"!

Official Refined Impact "Stacked" Logo

Alternate Horizontal Logo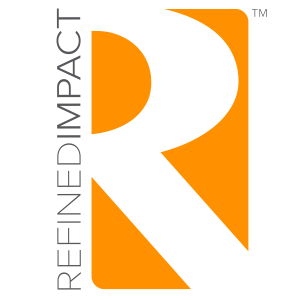 Refined Impact "RIcon"
We're happy to be utilizing this new branding for our company, and believe that it properly reflects our image.  We're all about clean, modern, and effective design.  We feel this new logo is professional and effective, a reflection of our team!  If your business doesn't have consistent branding, we welcome you to contact us to discuss how we can help.
Want to give your company the branding it deserves?  Refined Impact is ready to help.   Contact us today!